Mexico Operations

View Page in Spanish / Ver Página en Español
Is your business continuing or expanding its manufacturing operations to include facilities in Mexico? Have you established your supplier network? Are you considering all of the factors needed to select the right supplier? For example, does the supplier meet strict agency and regulatory requirements? Does the supplier control and manage the supply chain and include fast and accurate shipment tracking? Does the supplier produce quality product consistently, with the ability to react quickly to short-run orders as well as long-run requirements?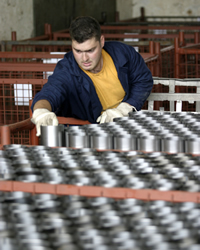 Taylor Communications provides a resource in Mexico that helps you overcome these obstacles through a comprehensive suite of services and globalization tools: Taylor Communications de Mexico.
The SR de Mexico Difference Working for You
Through SR de Mexico, our 30,000-square-foot production and service facility provides you with label printing, warehousing, kitting, digital on-demand printing and a wealth of other features that clearly differentiate Taylor Communications in the manufacturing space, including:
A Web-based bilingual inventory management system
The capability to work with both national facilities and maquiladoras
Flexographic capabilities and kitting operations
Adherence to Six Sigma/Lean Manufacturing principles and practices
Warehousing and distribution
Bilingual customer service
Long- and short-run color label production
Additional storage of long-run production pieces
Case in Point
This global manufacturer of electrical products and tools has nearly 100 manufacturing locations around the world. Based on these extensive operations, the company was looking to consolidate its more than 50 label suppliers into one large player who was capable of handling both its U.S. and Mexico operations, while at the same time delivering cost reductions and value-added services.
Following an extensive assessment of the company's specific business needs, Taylor Communications created and implemented a program for the company's over 2,000 printed production parts. The result was an estimated savings of 22 percent through operational efficiencies created by process improvements on the production floor, reduced lead times and lower freight costs. The company also experienced quality improvements through Taylor Communication's design services, agency compliance expertise and engineering reviews of all printed production parts.
Overcoming Obstacles
U.S. industrial manufacturers continue to face ever-greater demands as they expand into Mexico. Taylor Communications helps you deliver best-of-class products and services while dealing with:
Increasing costs and slimmer margins
Additional regulations
Customs and importation issues
Shorter lead times
Competition from all directions
Comprehensive Services
In addition to full-color label printing with long- and short run capabilities, including flexographic printing and kitting, Taylor Communications provides you with:
Warehousing as well as storage of long-run production pieces from multiple U.S. plants
Supply chain control and management, shipment tracking and a bilingual inventory management system
Agency requirements knowledge and adherence, including UL, ANSI and CSA
Bilingual customer support and the ability to work with national facilities as well as maquiladoras
Globalization
Manufacturers expanding into Mexico are quick to realize that "global" growth means much more than simply having a physical presence beyond their native border. With SR de Mexico, you can achieve globalization through:
Cost reductions in printed production parts, including functional and decorative labels as well as technical literature
A localized supply chain
Access to an extensive distribution network that services all major industrial areas of Mexico
Request more information about Taylor Communication's Mexico operations and how they can work for you
.